BYU football: Three things we learned from the Boise State game
BYU football lost its fifth-straight game on Friday, this time falling to Boise State. Here are three things we learned from the loss to the Broncos.
Another week, another loss for BYU football.
Things have gone from bad to worse, with the Cougars dropping five-straight games for the first time since 1970.
The offense still stalls, the defense still can't get off the field on third downs and fans are still at a loss. Waiting for basketball season to roll around.
At this point, it's safe to say that everyone totally misjudged BYU football – myself included. It seemed like things were lining up… Tanner Mangum seemed like the perfect pro-style quarterback. The Cougars brought in talented defensive line recruits. Fred Warner, Sione Takitaki and Francis Bernard were supposed to wreak havoc.
None of those things happened. Instead, BYU football is a hapless mess.
Here's what we learned from the loss.
It just isn't BYU's year
Well, sometimes it just isn't your year. In some ways, we may have drastically undervalued BYU's consistency. It's extremely difficult to win eight games per year, it's extremely difficult to make it to bowl games for than a decade.
And this year, it just isn't BYU football's year.
It's frustrating, sure. We never expected the offense to be anemic, or the defense to not generate pressure.
We thought it might be the schedule.
BYU's average margin of defeat is hovering around 20 points. The offense is lucky to score once per game. Every piece – from the offensive line to the receivers to the quarterback – disappointed on Friday night.
Ty Detmer made adjustments, but now what?
Everyone was calling for Ty Detmer to make adjustments. To his credit, he made them. We knew Tanner Mangum (really, any BYU quarterback this season), looked much better in shotgun. So, against Utah State the Cougars went shotgun. Then against Boise State on Friday, BYU football spent the night in shotgun.
Mangum started out great. He looked like his 2015 self. But after completing eight of his first nine passes, things went south.
On the night, Mangum completed 18-of-33 passes for 164 yards. He didn't throw a touchdown, but was intercepted twice.
BYU has yet to throw for 200 yards this season. Tanner Mangum has yet to complete 60 percent of his passes in a game.
The troubling thing now is that, despite the adjustments, BYU football isn't improving. I don't know if it's talent, or coaching, or both, but it doesn't look like things will turn around for the Cougars anytime soon.
BYU football's bowl streak is all but dead
BYU football has made 12-straight bowl games, going 7-5 in them. It's an impressive streak that speaks to the consistency of the football program in Provo.
Unfortunately, it's coming to an end.
Mathematically speaking, the Cougars still have a chance. With seven games remaining, BYU has to win five of them.
But practically speaking, there's no way the Cougars win five of those seven. Here's how the remainder of the schedule shakes out:
At Mississippi State, at East Carolina, vs San Jose State, at Fresno State, at UNLV, vs UMass and at Hawaii.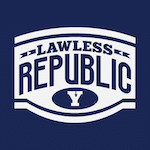 Want your voice heard? Join the Lawless Republic team!
Write for us!
At this point, San Jose State and UMass seem like wins. You can't feel great about trips to Mississippi State, ECU and Hawaii. That leaves trips to Fresno State and UNLV, neither of which seem like locks.
It was fun while it lasted, but all good things must come to an end.