BYU announces BYU50 schedule for every state
BYU50 is back for 2018, once again going state-by-state to deliver BYU swag. The schedule is out, and it counts down to BYU Football's first gameday.
We're in the middle of the summer, and there's no BYU sports going on at all.
It's a barren wasteland for Cougar fandom.
Fortunately, a few years ago the BYU athletic program found a way to break up the summer monotony just a little bit. They created the BYU50 program, a sort of cross-country scavenger hunt for BYU swag.
BYU50 is back for 2018, and the athletic department just released the schedule of when each state will get their turn:
They've scheduled the event to begin this Friday in Alabama, which is 50 days before BYU Football kicks off their first game of the 2018 season.
This year, there's one interesting addition to the BYU50: Canada. Our neighbors to the north will get their own chance to get some BYU swag this Saturday.
For fans in the state of Utah, they'll get their turn on Saturday, August 4th.
Fittingly, Arizona will be last, getting their shot on gameday (September 1st), since the Cougars will be playing in the Copper State to get the season rolling.
How BYU50 Works
The premise of BYU50 is simple.
When it's each state's turn, BYU staff members will drop off boxes of Cougar merchandise in different parts of the state during different times of the day. Then they'll post a picture of the location on social media, and the race is on.
Whoever gets there first gets the goods. In some cases where there's a large number of people, such as many Utah sites, the staff may hold a competition to see who gets the merchandise.
If you want a shot at the BYU swag, make sure to follow the Cougars on social media, and pay attention throughout the day that BYU50 will be in your state.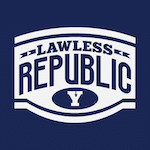 Want your voice heard? Join the Lawless Republic team!
Write for us!
Follow the Cougars here for BYU50:
Twitter: @BYUCougars
Facebook: facebook.com/byucougars
Instagram: byucougars
Snapchat: BYUAthletics