BYU Football: The Mount Rushmore of Independence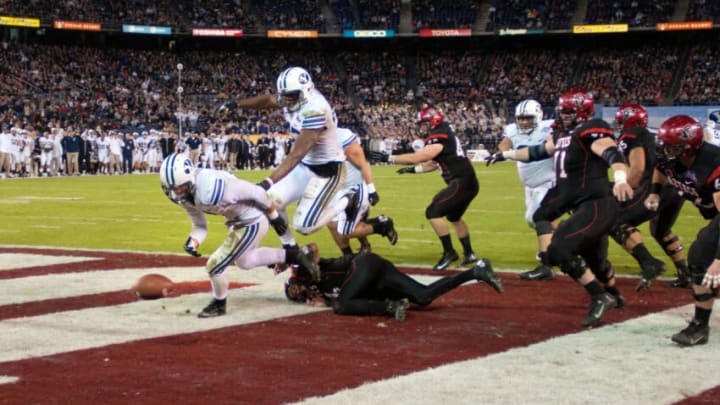 SAN DIEGO, CA - DECEMBER 20: Kyle Van Noy #3 of the BYU Cougars recovers a fumble scoring a touchdown after sacking the qurterback in the second half of the game against the San Diego State Aztecs in the Poinsettia Bowl at Qualcomm Stadium on December 20, 2012 in San Diego, California. (Photo by Kent C. Horner/Getty Images) /
BOISE, ID – NOVEMBER 6: Quarterback Zach Wilson #1 and offensive lineman James Empey #66 of the BYU Cougars both call out signals during second half action against the Boise State Broncos at Albertsons Stadium on November 6, 2020 in Boise, Idaho. BYU won the game 51-17. (Photo by Loren Orr/Getty Images) /
BYU Football has had dozens of players the last decade who have been all-time contributors and stars.
Lately there has been a social media trend of creating a 'Mount Rushmore' of certain categories. One of these lists that has gone viral features the question of who the best players are since the year 2000.
Rather than going back nearly a quarter century, instead the focus will be on the last decade of Independence. While there are quite a few players who could make this list, only four can. The focus will be on what they did at there time at BYU and the impact that they had in helping to get BYU into the Big 12. While of course player impact was minimal in this happening, let's face it, if BYU is averaging a 4-8 record the past decade, the Cougars may not be heading towards the P5 – even with their history and resources (see Colorado St and SMU as perfect examples).
Honorable Mentions:
Tyler Allgeier – Allgeier had the best individual season possibly ever for a BYU running back this past season when he racked up more than 1,807 all purpose yards and 23 touchdowns. Allgeier also had a huge junior season with 1,307 all purpose yards and 13 touchdowns. However, Allgeier misses the list for two reasons. The first is he wasn't very productive for his first two years and his entire senior year was after BYU had already accepted a bid to the Big 12.
Ezekiel Ansah – In terms of the greatest story, Ansah takes the top prize, but similar to Allgeier, Ansah's success was limited and was really just one season where he totaled 62 tackles and took up two blockers just about every snap.
Bronco Mendenhall – Mendenhall rescued what could have been a nosedive for the program when he took over for Gary Crowton. Mendenhall held BYU in a respectful spot as they entered Independence never missing a bowl game. Mendenhall's legacy will always be the coach who rescued BYU and set them up to be in a spot to make the jump to P5. However, he misses the list because a huge chunk of his success happened before BYU went Independent.
Kai Nacua and Fred Warner –  These two are together because they are sort of in the same boat. Both were great players and led the team defensively. Both players could arguably be put into the top 10 defensive players ever for BYU. But for a list that only includes four individuals, these two fall just short.
Taysom Hill – Hill is the first player off the list, in large part because he was injured so much. When on the field, Hill posted a 24-9 overall record (when starting and playing for at least one half). Texas is still having nightmares of hurdling Taysom and had he stayed healthy, 2015 and 2016 could have been huge seasons for BYU.